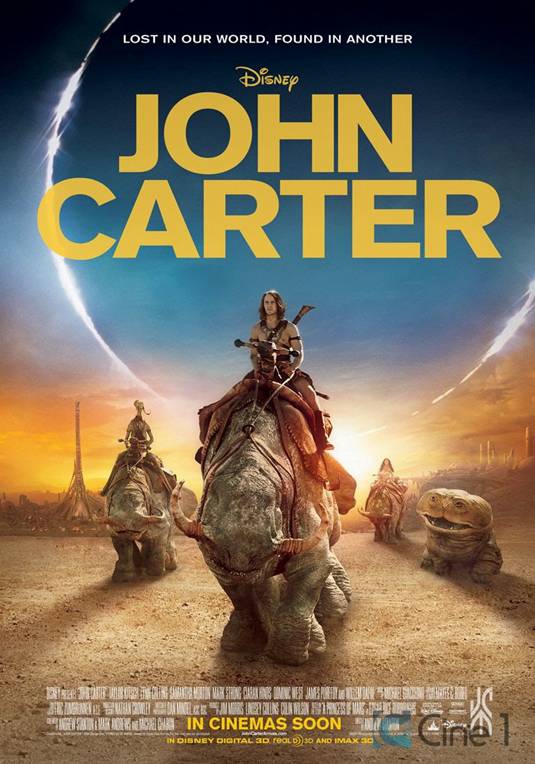 I do not usually blog about movies nowadays much because I hardly attended any. However, recently, I was somehow lucky enough to get hold of tickets to the World Premiere of John Carter, based on novels which was written say, yes exactly 1 century ago by Edgar Rice Burroughs. When I first viewed the trailer, I was amazed and I thought avatar kinda ripped it off this movie since it was created 100 years ago. However, I must say I was kind of disappointed when I saw the Disney label on it because basically it would say : "No blood, no extreme violence and definitely no sex!" Well I can't say I was totally disappointed with the Pirates of the Caribbeans, so maybe I should give it a chance.
To be honest, this was not the first movie based on the first book "A Princess from Mars". In fact in 2009, there was a STV movie made with the same title, which obviously flopped, gaining a 3.2 / 10 on IMdb. I was fortunate enough not to have watched that. I had not read any of the books too, so this movie is a fresh start for me.
Firstly, I must say, I am impressed with the 3D. It had came so far and in this movie, its not just cosmetics. The 3D effects actually tries to put the user into the world by feeling it. The story line is kinda old, but what would you expect from a 100 years old tale. However, you can see how this old story could had brought about others like Narnia, Stars Wars and Avatar. The creature created are not anything we had not seen before, but there are believable and some more cute than others. But I guess in the end, the leads had put in good effort into their characters and it eventually plays out well in the whole.
I really enjoyed the show and look forward to a sequel soon.